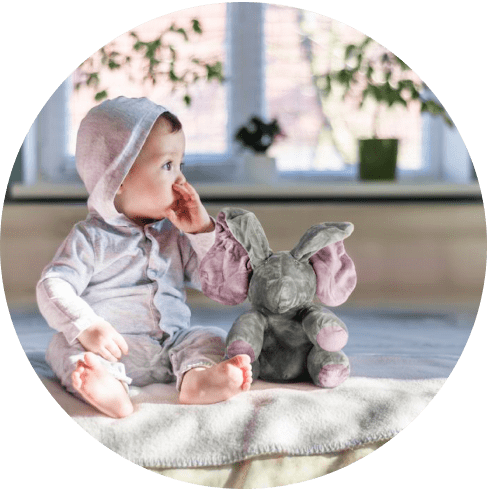 Protective. Comforting.
A friend indeed.
Well, If you arrived this page, you probably looking for the most interactive toy for your baby or as a newborn gift.
Smudgical interactive elephant toy is one of our best sellers. It looks like the elephant which is a huge animal, can be very cute toy when is comes to baby toys.
One of the largest, strongest animals in the animal kingdom sizes down to be a soft, cuddly friend to your little child. Our Peek-A-Boo Elephant Toy sings and interacts with your loved one for comfy, safe companionship while you're busy doing housework or working.
It sings. It plays.
It comes to life
When it comes to your baby playtime, the toy you buy for him\her must offer great fun and interest.
Your child's new elephant friend has two fun functions: press the left foot to play an interactive game of peek-a-boo; press the right foot to hear the song "Do Your Ears Hang Low" in a cute child's voice. During both play modes, the elephant's ears move and flap, like the elephant has come to life: it's sure to delight your little one.
Learn skills while playing with a friend
Our elephant plush is always ready to play with your baby. He's created to stimulate the imagination of young minds, helping kids build fine-motor skills, hand-eye coordination, and enhance their creativity while keeping them engaged and entertained. The built-in lullaby that plays is also great for letting young ones feel that they're not alone and have the most powerful animal of the forest and vast savanna lands far away there protecting them.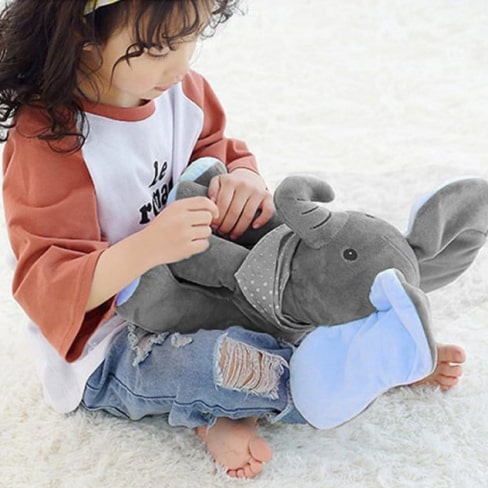 Just power it up
The Peek-A-Boo Elephant Toy comes to life with just three AA batteries (not included).
Child-sized to match your baby
Measuring just 12 inches tall, this interactive plush is small-sized to match young children for something not too large that can be intimidating or scary. Choose from gray, gray/pink, and gray/blue color designs to match your baby's gender.Handkerchief color is random.
Looking for Peek-A-Boo elephant with floppy ears?
Looking for talking elephant toy for babies?
Looking for a great baby birthday gift?
Well, this one is for you.
You can choose the Pink Peek-A-Boo elephant with floppy ears or maybe the Blue one.
You can also check Smudgical peek a boo Bear toy and order both singing Elephant and Bear toy with sound.
Order Now! Free and fast shipping!